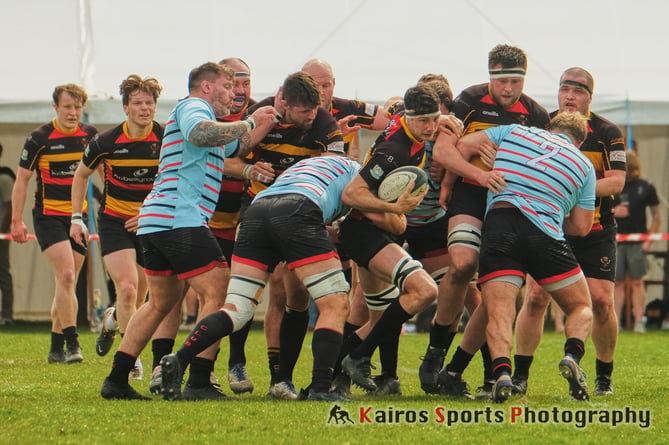 Cinderford scored eight tries in the win against Blackheath
(Kairos Sports Photography )
Subscribe newsletter
Subscribe to our email and get updates right in your inbox.
Cinderford 53 Blackheath 28
CINDERFORD surged to their best-ever finish in National League One as they condemned Blackheath to relegation at the Beavis Memorial Ground.
Jake Hennessy dodged in and out of Cinderford to claim a head start for the away team, with a try which he also converted.
It didn't take long however for Cinderford to take matters into their own hands. An impressive cross field kick was successfully received by Tim Andrew who darted his way through Blackheath's defence and offloaded perfectly to Mike Wilcox allowing him to score.
Reece Boughton converted the try to quickly level the scores.
Boughton's kick found touch setting Cinderford up for a line out. The home team stuck to what they do best as the driving maul appeared almost impossible to defend, Nathan Taylor sneaking out the back and scoring, followed by another successful conversation by Boughton.
Blackheath remained on Cinderford's tail for a while longer as Hennessy worked his way around Cinderford and shot through the gaps to claim a second try, which he converted.
Boughton then kicked for touch as Blackheath were penalised for a high tackle and the home team took the opportunity to perform another impressive maul in which Taylor found the line to snatch back the lead. Converted again by Boughton.
Just before half-time Cinderford found themselves with a scrum just metres from the line, Hone picked the ball out the back and popped it to scrum half, Mike Austin, who scored yet another for the home side, with Boughton's conversion leaving the half time score at 28-14.
The second half remained positive for Cinderford as Boughton kicked a penalty for an extra three.
Taylor maintained his record as Cinderford's top try scorer, touching down for his 26th of the season as he completed a 'hat-trick' from yet another driving maul.
Blackheath regained possession momentarily, but Lane snatched it from their grasp, and shipped the ball down the line to Will Hendy who scored for Cinderford.
Andrew snatched the ball after a Blackheath knock on and runs most of the pitch to score yet another spectacular Cinderford try.
The visitors continued to fight as James Catt scores a brace of tries for Blackheath both of which were successfully converted by Hennessey.
Matt Lane then danced around the opposition to score Cinderford's eighth try and complete the scoring.
Paul Morris, Cinderford DOR shared his thoughts as the season draws to a close.
"I am delighted with our performance today against a very good side, their league position does not reflect the quality of players they have, but today was purely about ourselves as we finished the highest, we have ever done since the leagues were founded in 1987, we deserve to be where we are and I'm very proud of everyone at Cinderford Rugby Club, both on and off the pitch".
Cinderford: Mike Wilcox, Will Hendy, Will Baldwin, Reece Dunn, Tim Andrew, Reece Boughton, Mike Austin, George Porter, Nathan Taylor, Tim Brockett, Tyler Jerrum, Joe Dancer, Matt Lane, Aaron Ryan, Harry Hone (Capt.)
Repls: Joe Smart, Sam Baker, Mat Gilbert, George Evans, Jimmy Williams.
Comments
To leave a comment you need to create an account. |
All comments 0