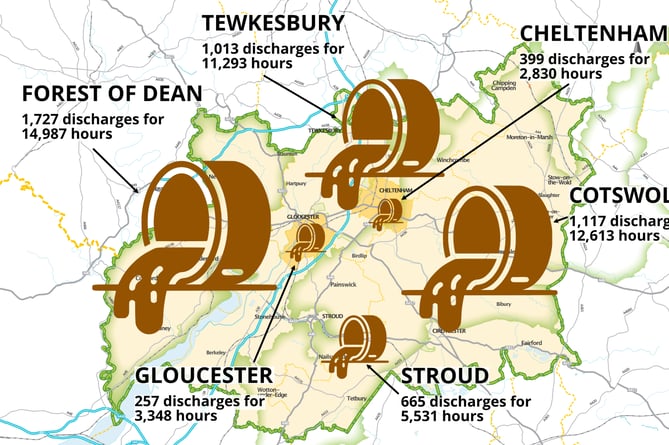 A map showing the locations of sewage discharges into Gloucestershire's rivers
Subscribe newsletter
Subscribe to our email and get updates right in your inbox.
THE Forest of Dean was subjected to more instances of raw sewage being dumped into rivers via storm overflows than any other district in Gloucestershire last year, figures have revealed.
The Environment Agency (EA) has published figures for releases from sewer overflows by water companies in 2021, with the Forest having seen 1,727 releases for a total of 14,987 hours.
The district was the worst hit in the county, with the Cotswolds seeing 1,117 releases and Tewkesbury seeing 1,013.
Overall, Gloucestershire saw 5,178 releases for a combined total of 50,602 hours, meaning there was an average of 137 hours of sewage dumping every day in the county in 2021.
Storm overflows are used at times of heavy rainfall to prevent sewers becoming overloaded by sewage and rain.
But campaigners have criticised UK water companies over the frequency of their use, and have called for them to introduce measures to reduce their usage to protect the health of rivers.
Severn Trent, as the largest operator in the county, made up almost three quarters of the total release hours at 37,602.
The company, alongside Wessex Water, conceded they had no plans to stop releasing sewage into rivers at a task group meeting in November last year, though Thames Water says they hoped to halt all releases by 2050.
Severn Trent did announce a new five-point plan to "help drive health" of local rivers back in March, in which it committed to ensuring that storm overflows and sewage treatment works "do not harm rivers".
Part of that pledge was to reduce the use of storm overflows to an average of 20 per cent by 2025. 
Councillor Paul Hodgkinson, Lib Dem Group Leader at Gloucestershire County Council, has accused Gloucestershire MPs of not going far enough to oppose the "filthy practice".
He said: "The scale of these releases is simply staggering. 
"This is a practice that is meant to be used only in exceptional circumstances, yet it is blatant, even to the most casual observer, that it has become a routine practice.
"Healthy rivers are vital for biodiversity and human health but, last year Gloucestershire's rivers saw 137 hours of sewage dumping each and every day that is destroying this fragile ecosystem.
"Despite this clear evidence, Conservative MPs are letting water companies get away with it, while also raking in multi-billion pound annual profits. 
"Five of Gloucestershire's MPs all failed to support an amendment to the Environment Bill, which would have put a legal duty on these companies to phase out sewage dumping."
"It's time to send a message once and for all that this filthy practice has to end."
Comments
To leave a comment you need to create an account. |
All comments 0