Rob's got scrutineering covered
Friday 11th February 2011 12:00 am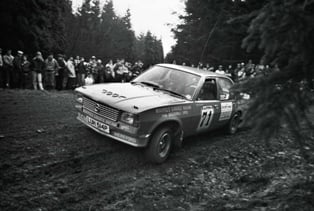 FLASHBACK: Rob Weir competing in the 1980s.
()
Subscribe newsletter
Subscribe to our email and get updates right in your inbox.
ENTRANTS for the Wyedean Rally will present their cars for scrutineering today, on Friday February 11.
The procedure confirms that the vehicles comply with road traffic laws and are prepared to the strict regulations stipulated by the Motorsports Association.
This year, scutineering will take place under cover for the first time, courtesy of Mr Rob Weir, managing director of HJ Weir Engineering Ltd.
His Bulwark premises will provide a more comfortable environment for the scrutineers and competitors during the checks, which do take longer for events at the beginning of the motorsport year.
Rob Weir has a long association with rallying in the Forest of Dean and was a very enthusiastic driver and co-driver.
Rob's co-driving career started in 1977 when he partnered Tony Phelps in an Opel Kadett GT/e on the Tour of the Dean, and Mike Edmunds in an Opel Ascona on the Wyedean.
Rob entered the Wyedean Stages in 1979 with Robin Bradbury in a Ford Escort, and again in 1981 with Mike Edmunds (Opel Kadett GT/e).
In 1985 Rob entered his rallies as a driver and formed a successful partnership with Dave Edmunds of Cardiff.
On the Wyedean Stages they improved 39 places on their seeding.
They returned in 1986 to tackle the first Wyedean to be affected by snow.
Dave Edmunds was unavailable in 1987, so Rob was partnered on the Wyedean by Coleford man David White. They retired their Opel Manta on the first special stage.