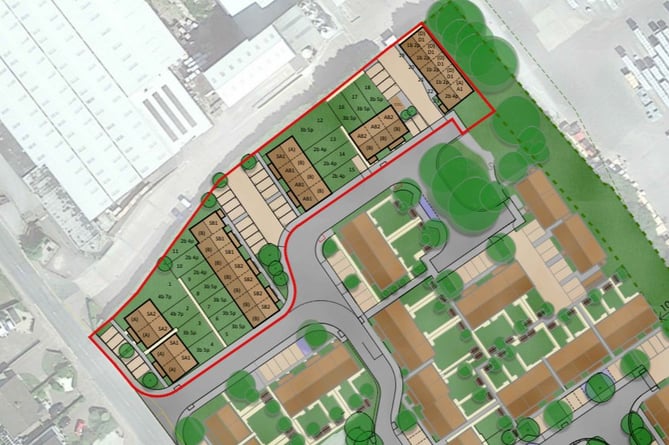 Subscribe newsletter
Subscribe to our email and get updates right in your inbox.
PLANS to build 23 homes on land next to a concrete paving plant in Coleford have been deferred for a month after councillors and businesses raised concerns about noise pollution.
The Stantonbury Development Company had previously secured permission from the council to build 65 dwellings and 12,002 sq ft of flexible commercial units at the former Sonoco Industrial Packaging site in Tufthorn Avenue.
But the developers were unsuccessful in their attempts to find occupiers or potential buyers for the commercial units, so have instead sought permission to build 23 additional residential units in their place.
Planning officers had initially recommended rejecting the plans due to concerns over noise from the adjoining Formpave industrial plant.
But, after the developers amended the scheme to include an artificial acoustic barrier - to be built between the plant and the proposed properties - officers then recommended the scheme's approval on the advice of Environmental Health, who said the barrier would be satisfactory in mitigating the noise issue.
The scheme would provide additional affordable housing at the new estate.
Officers said the scheme's benefits would outweigh the negative impact on living conditions following the inclusion of the late material.
At a meeting last Tuesday (March 8), Frank McGuiness of Formpave told councillors that the company was "very concerned" about the "detrimental" effect that noise from the plant, which operates 24 hours a day, would have on the new homes.
David Hambly, of developers Stantonbury, defended the scheme, saying that it would provide additional affordable housing for the district and work for local companies during the construction phase.
He added that the development was "highly sustainable" and said the inclusion of the acoustic barrier would protect both new and existing residents from noise pollution.
Coleford Town Councillor Marylin Cox said the town council was sorry the land could not be used for employment as was originally agreed, although they would appreciate the extra affordable housing.
Cllr Carole Allaway-Martin (Coleford, Con) called for assurances that the noise issue would be monitored by the developers, as she was concerned about the quality of the housing if the barrier "doesn't meet expectations".
Other councillors also said they were concerned about the noise, and council chair Julia Gooch (Newent & Taynton, Prog. Ind.) moved for deferment until the next meeting so that Environmental Health could be present to explain the effectiveness of the barrier in more detail.
Councillors voted unanimously to defer the application until the next meeting in April.
Comments
To leave a comment you need to create an account. |
All comments 0