Long live the beast!
Thursday 17th February 2011 12:00 am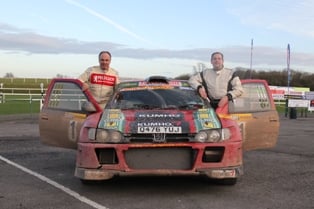 WINNERS: Andy Burton & Robin Kellard. Pic: Kevin Baldwin
()
Subscribe newsletter
Subscribe to our email and get updates right in your inbox.
ANDY Burton's name will live long in Wyedean Rally history, after the Herefordshire farmer cruised to a sixth career win on the Dean's stages.
His 178 rivals could not live with the speed of the self-built Peugeot Cosworth hybrid car, which the authorities want to ban at the end of this season.
Five of Burton's Wyedean wins have come in this 14-year-old 'beast', which many regard as a triumph of engineering.
"Because this is the car's last year any victory is special, but none more so than the Wyedean," said an emotional Burton.
"The reaction I got from the crowds was just fantastic. People love this car.
"It was a bit wet out there and the car misfired all day but it wasn't a problem. Things went our way for a change.
"Hugh Hunter was going very well and but for a spin would have been very close to us.
"As for the future we'll see how things go. I want to win the championship with this car in its last year. That's the dream."
Clerk of the course Phil Turley paid tribute to the ever-popular Burton by saying: "It's nice to see Andy win again. I'm not really au fait with what's been going on, but people must appreciate his car is a crowd puller. I told Andy he had to finish. He's a deserved winner."