Lib Dems accuse PCC Chris Nelson of 're-writing' manifesto pledge
Friday 5th August 2022 6:00 am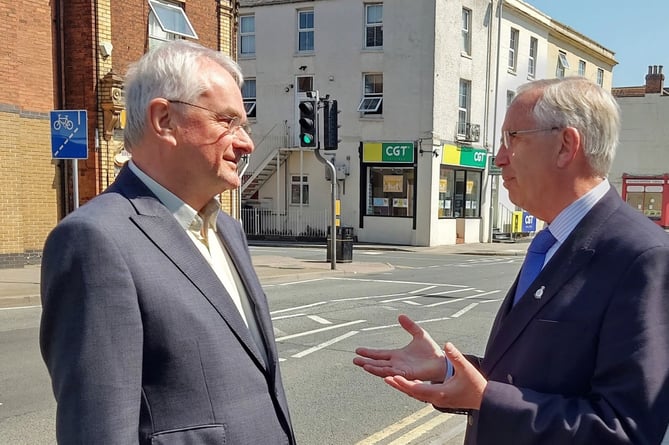 Cllr Jeremy Hilton and PCC Chris Nelson
()
Subscribe newsletter
Subscribe to our email and get updates right in your inbox.
COUNCILLORS in Gloucestershire have once again scrutinised Police and Crime Commissioner (PCC) Chris Nelson over his manifesto pledge to "put 300 more Bobbies on the Beat".
The Liberal Democrat group at Gloucestershire County Council proposed earlier this year that the PCC be invited to explain to councillors how he intends to deliver his manifesto promises.
Mr Nelson's top manifesto commitment as the new PCC was to increase the number of police officers by 300 and recruit 150 more special constables.
But back in February, he admitted he would be "jolly lucky" to achieve the full 300 by the end of his term in office.
The Lib Dems have accused Mr Nelson of "re-writing" his manifesto pledges, and are calling for him to be honest with the public that he has "ditched" the promises which saw him elected.
The PCC gave a presentation to the council last week, during which he emphasised his ''commitment to hiring 200 police''.
But the Lib Dems criticised the statement as, under questioning, it emerged that just 50 of those were police officers.
And while Mr Nelson explained that antisocial behaviour rates have decreased under his watch, the Lib Dems say Gloucestershire's rates still "tower over" the national average, and those of neighbouring authorities.
Proposer of the motion, Cllr Jeremy Hilton, said after the presentation: ''We appreciate Chris Nelson's promise to improve the 999 and 101 services, which are currently failing to cope with the demand of the public.
"However, there are requirements that need to be met regarding the hiring of full-time officers that will aid in improving patrols and reducing antisocial behaviour.''
"Chris Nelson argued that he "gets irritated by those who bang on about numbers" but his manifesto was clear that he would hire 300 officers to patrol the streets and he is well down on that commitment.
"The Lib Dems will continue to challenge Chris Nelson to deliver on his manifesto, or to be honest with the public that he has ditched the promises that saw him elected."
Comments
To leave a comment you need to create an account. |
All comments 0