HEADTEACHER QUITS AT FIVE ACRES HIGH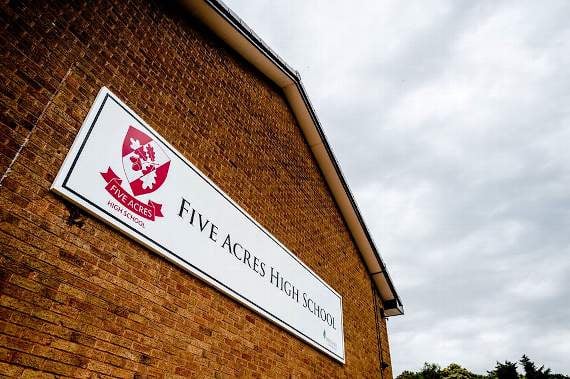 Five Acres High School which is wrapped up in a Coronavirus skiing trip crisis
()
Subscribe newsletter
Subscribe to our email and get updates right in your inbox.
THE HEADTEACHER of Five Acres High School, who allowed a party of students to go on a skiing trip to Northern Italy last weekend, has resigned, it is understood.
Mr Ian Frost has quit with immediate effect, according to the parents of students who have contacted The Forester, who broke the full story in this week's edition on Wednesday morning.
And the parents have said their attempts to get information from the school, which is an adademy under the umbrella of the Greenshaw Learning Trust, have been frustrated.
The trip has caused controversy as the children visited Claviere, which was on the edge of Lombardy region that was in lockdown last week before Italian Prime Minister Giuseppe Conte extended the emergency isolation to the whole of the country on Monday evening.
The Five Acres High School students, who were pictured and videoed at the Italian resort enjoying their time on social media on Monday and Tuesday this week, are on their way home by coach travel.
Five Acres High is now expected to be run on a day-to-day basis by acting headteacher Mr Simon Phelps although it is believed it Mr Phelps' own child was on the skiing trip.
As a consequence, a worried parent, who did not wish to be named, said he could have contact with the child while the students are going through self-isolation with a risk of bringing it into the Academy.
Also, it is understood, the child of a dinner lady at Five Acres High was on the trip.
The parent told The Forester: "I don't want a dinner lady serving my children who will have had contact with their child."
Additionally, the parent, who has two children in Five Acres High, said the school had been very sketchy with their information on the crisis despite the chief executive officer of Greenshaw Learning Trust Mr Will Smith saying, in a statement to The Forester last week: "If any students or parents have concerns, they should contact the school directly."
She said: "I have contacted the school by phone and email and been told 'Thank you for contacting us again' (in what could be termed as a sarcastic tone, she said).
"The school needed to use common sense. I can't believe they were going there in the first place.
"They really need to think about what they are doing there. It's a brilliant school and I have never had a complaint about them but, from a parents perspective, the school have not been very forthcoming with things.
"They (the children) will be expected to self-isolate but I am really scared."
A letter sent to parents from the school on Tuesday said: "We would like to thank those parents who have been in contact showing care and concern for the students who are currently enjoying their skiing visit to Claviere. 
"We would also like to thank you for your patience and understanding in allowing us to continue to run our school with the safety of the whole school community at the forefront.
"We have attempted to respond to as many requests for information as possible and we recognise that many of you still have questions about the safe return of these students and staff.  I can inform you that they will be leaving the resort on Wednesday 11 March, and we expect them to be back in the UK and home early on Thursday 12 March.
"As you would expect, in order to ensure the safety and well-being of the whole school community, we have been following the guidance and advice of the relevant Government agencies and will continue to do so on the return of staff and students.
"This is currently that travellers from Category 1 areas (including Italy) "should self-isolate, even if asymptomatic, and use the 111 online coronavirus service to find out what to do next"
"Once again, your support is appreciated."
The Forester has contacted Mr Smith's office for an update on the reprecussions of the trip from his point of view, to confirm Mr Frost's resignation and what happens next. However, his office sent us the original statement issued last Friday with a slight amendment and did not address any of the issues facing the frustrated parents at Five Acres High.A later email to The Forester said that there would be no further comment on the matter and that they did not comment on 'individuals'.Yet they have assured this newspaper that when news about the 'headteacher position' becomes available, we will hear about it along with everyone else.
Comments
To leave a comment you need to create an account. |
All comments 0