Fracking firm rejects Forest of Dean gas exploration licences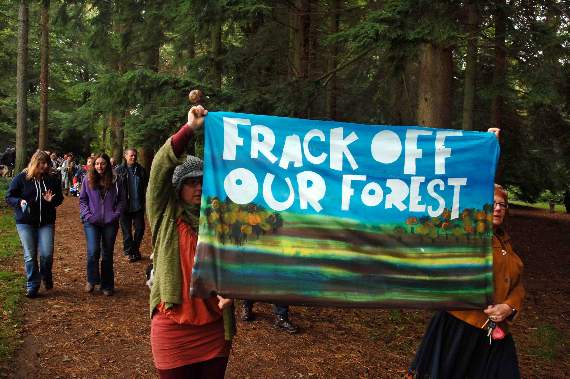 Subscribe newsletter
Subscribe to our email and get updates right in your inbox.
The Forester understands that the Bridgend-based company has rejected the licences due to public pressure and a lack of financial backing for the venture.
Company geologist Oliver Taylor confirmed that the firm had rejected the licences but did not wish to make any further comment.
Owen Adams, spokesperson for environmental campaign group Frack Off Our Forest, said he was 'over the moon' with the decision and that the outcome was a testament to the power of the people in the Forest.
"We had always said we would achieve our aim by any means necessary - I expect the powers-that-be and our local police will be sighing with relief, as they are well aware Foresters are not to be trifled with.
"We have won this battle but we still have much to do to win the war against this dinosaur petroleum industry - so desperate to continue dredging the planet of its fossil fuels it is prepared to risk our life support system - water.
"We will continue to go all out to ensure its extinction everywhere, to ensure it doesn't rear its head again locally and also to join in with concerted anti-frackers everywhere, from Somerset to Lancashire and Yorkshire, from Standing Rock, Dakota to Pilliga Forest, New South Wales.
"Their fight is our fight and we will stand shoulder to shoulder with them, as this issue affects us all.
"We call on our Government and others to please stop this fracking madness and invest in a clean, renewable and energy-efficiency future.
"We have no choice but to stop fracking for the sake of future generations and the planet.
"The evidence of harm caused by extreme energy is overwhelming."
A spokesperson for the Oil and Gas Authority said: "The OGA can confirm that some blocks offered under the 14th Onshore Licensing Round have not been accepted by those to whom they were offered.
"This means that the licences pertaining to these blocks will not be awarded.
"The blocks concerned include SO50a, SO51a, SO60a, SO60b, SO61, ST84, ST85, ST94 and ST95, which are near the Forest of Dean and near Wiltshire."
Comments
To leave a comment you need to create an account. |
All comments 0