Forest quartet are named in Queen's Birthday Honours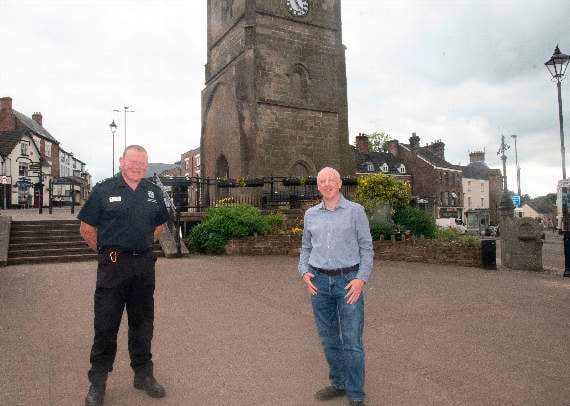 Roger Pickett (left) and Nick Penny were honoured for their part in Coleford's response to lockdown
Subscribe newsletter
Subscribe to our email and get updates right in your inbox.
FOUR people from the Forest of Dean have been named in the Queen's Birthday Honours List.
They include two men who helped co-ordinate the community response to lockdown in Coleford.
Town mayor Cllr Nick Penny and Coleford Fire Station watch manager Roger Pickett both received the British Empire Medal (BEM) for services to the community.
Jill Barker of Newent received the BEM for services to public libraries and Simon Hall of Longhope is made an OBE for his role at the Department of International Trade.
Roger and Nick both said the honours represent the wider voluntary efforts in the town to help people through lockdown.
Cllr Penny said: "I'm very much accepting this on behalf of the community because I feel it was all the volunteers coming together that made the difference in supporting people in need."
Mr Pickett used his skills as a community safety adviser and dementia enabler to check that people were OK when concerns were raised.
Cllr Penny was at the forefront of Coleford Town Council's efforts to set up a "resilience hub" to co-ordinate the response.
The council was quickly able to establish a fund with £2,000 going to Mid Wyedean Churches to support community meals through the Café 16 community café.
There were also more than 500 prescriptions and the council even had plans about how to respond in the case of food shortages.
Cllr Penny said: "We knew we had to be ready even though we didn't quite know at the time when lockdown kicked in what that need might be.
"The community naturally looked towards local council to lead on efforts like this but we had no briefing, nobody knew what the need was going to be."
He said: "I know how much work the voluntary groups have done, – they are the unsung heroes, the ones who have dug in and helped neighbours."
Mr Pickett also drove ambulances throughout lockdown and has continued to do so with Gloucestershire Fire and Rescue Service releasing him two nights a week to assist across Gloucestershire.
When lockdown was first announced he was working with the Forest Council as a dementia enabler and has put those skills to use.
He said: "Using my skills I could go to find people who were not responding.
"Having the correct PPE (personal protective equipment) and fire service uniform and car, I was welcomed straight in to sort things out."
Jill Barker has had a key role in developing library services in Gloucestershire.
In 2016, working with Create Gloucestershire, she secured funding for a three-year project to bring art and culture to audiences that wouldn't normally engage and explore how libraries could become a truly public space.
Her involvement in the project led her to transform workforce development in the county's libraries by encouraging staff to become peer-to peer-trainers.
She also introduced "action learning sets" where staff discuss common problems and create ways to tackle them and has now been adopted within the wider county council. Jill also championed the David Vaisey Prize which recognises initiatives that increase reading or bring reading and books to new audiences.
Former soldier Simon Hall has been honoured for services to international trade and public service.
He is deputy director for transition planning at the Department for International Trade (DIT).
In 2017 he became the director for exports and investment for the Midlands Engine region by the DIT.
He was in the army for 28 years, specialising in logistics and had tours of the Falklands, Northern Ireland and the former Yugoslavia.
Comments
To leave a comment you need to create an account. |
All comments 0