New wildlife book helps bring local nature to life
Saturday 26th March 2022 7:00 am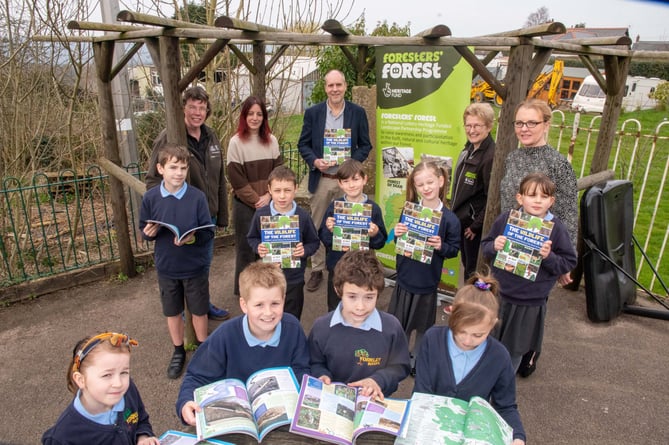 Pictured with members of Yorkley School's nature and book clubs are Rosie Kelsall of Gloucestershire Wildlife Trust, headteacher Kate Burke, author Andy Seed, Foresters' Forest project manager Sue Middleton and the school's literacy lead Tracy Wood.
()
Subscribe newsletter
Subscribe to our email and get updates right in your inbox.
LOCAL author Andy Seed says he hopes his new book will help children in the Forest to better "understand and value" the nature around them following its official release this week.
The book, called 'The Wildlife of the Forest', has been created with the help of local enthusiasts and experts and aims to bring the Forest's habitats and their "fascinating" plants and animals to life for children.
Illustrated by Kate Shepard, the book allows readers to explore the range of habitats and species living in the Dean in an "informative and entertaining" way.
It is described as a "family read which adults will enjoy too."
The book was launched at an event at Yorkley Primary School on Monday (March 21).
Award-winning author Andy, a former teacher who has been writing "funny and factual" books for children for more than 20 years, created the book together with Foresters' Forest project leaders and experts from Forestry England and Gloucestershire Wildlife Trust.
It is the second book Andy has produced with Foresters' Forest, following on from the 'Story of our Forest' history book which was released last year.
Speaking about the book, Andy said: "The wildlife of the Forest is amazingly rich and varied, and so it has been quite a challenge to do it justice with this project.
"The aim was to create a book which brings alive local habitats and their fascinating plants and animals for children so that they come to understand and value the nature around them.
"The publication has hundreds of wonderful photos of Forest wildlife, many taken by local enthusiasts, plus high-quality illustrations and a bold, colourful design.
"I was particularly grateful for the detailed help I was given by experts in the Forest's mammals, birds, reptiles, trees and more. They have helped make the book into something really special."
Free copies of the book are being provided to schools in the Forest, and will also be available for sale for £8 from local outlets including the Coleford Tourist Information Centre.
It is also available online from the Gloucestershire Wildlife Trust shop at www.gloswildlife.myshopify.com.
Rosie Kelsall, Gloucestershire Wildlife Trust says: "This book is a fabulous resource for all to learn more about the wonderful wildlife of the Forest of Dean.
"I hope it will inspire future generations to take action and care for their local wildlife."
Sue Middleton, Foresters' Forest Programme Manager said: "We really appreciate the funding from National Lottery Heritage Fund that enables us to commission such an expert team to create this wonderful book.
"It is part of our 'Working with Schools' project so we are able to give every primary school in the Forest 10 free copies of the book, helping children learn why our forest is so special."
Kate Burke, Headteacher at Yorkley Primary School added: "We are so privileged to have Andy Seed living and writing about our local area, not only inspiring our next generation of children about the Forest of Dean through a love of reading but by educating them about the amazing wildlife and nature that surrounds us."
Comments
To leave a comment you need to create an account. |
All comments 0