Grandad still doesn't feel safe after assault by Bream man
Monday 27th June 2022 6:00 am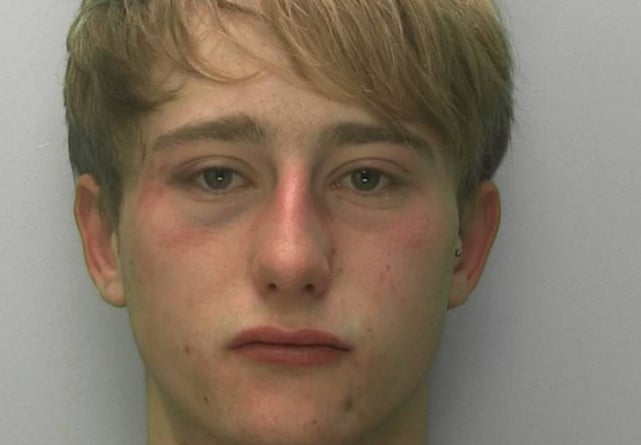 John Bevan
(Gloucester Crown Court )
Subscribe newsletter
Subscribe to our email and get updates right in your inbox.
A 20-year-old Bream man has been given a suspended two year jail term for beating up his ex-partner's grandfather.
John Bevan, also known as Dylan, of Greenacre, Bream, had been in a relationship with Mia Cornock for some time when he threatened her and her family, Gloucester Crown Court was told last Friday (June 17).
On March 28 last year all three generations of the Cornock family were in the grandparents' home when Mia explained to her father Paul and her grandparents that Bevan was angry and had threatened to come to their home, said prosecutor Caitlin Evans.
"While the family were having this discussion Bevan rang Mia, but her father answered it on her behalf. Bevan swore at Paul Cornock and made insults towards him," she said.
"Grandfather Derek Cornock then called the police after which he and Paul Cornock went outside to check on the property and their vehicles parked in the street, shortly before 9pm.
"Derek Cornock was at the front of the property when Bevan arrived and identified himself. Mr Cornock questioned him as to why he was threatening his granddaughter. Bevan responded by hitting Derek Cornock on his forehead with his fist, which caused him to stumble backwards and trip over the kerb and fall to his knees.
"Bevan then continued to punch Derek Cornock repeatedly with both fists, at the same time shouting 'Have that!'
"This shouting alerted Paul Cornock to the situation and he ran to the front of the house and saw his father trying to stand while Bevan continued to rain down punches on him with his fists.
"Paul Cornock pulled Bevan from his father and noticed that Bevan was drunk and told him so, but Bevan denied this. Bevan was pinned to the ground until a friend of Bevan's passed by and pleaded with them to release their grip on him.
"But as soon as they did that, Bevan ran off. Derek Cornock was taken to hospital by ambulance where he was diagnosed with swelling and lacerations to his nose, multiple fractures to his nasal bone, swelling and severe bruising to his forehead and bruises to his sternum.
"At 9.05pm Bevan called Mia again and left a voicemail with obscene content. He was located by the police 25 minutes later near to his home in Bream, slumped over a garden wall in Highbury Road in an almost unconscious state."
Bevan was searched and was found with a pair of 'snips' - nail clippers - on him. In his police interview Bevan claimed that Derek Cornock had punched him in the face and that he had the snips on him to keep his nails short.
Derek Cornock, who is 71, said in a witness statement that the incident has caused him to have flashbacks about the assault and it has affected his sleep pattern and made him nervous about going out.
He added that he has installed additional security measures at his home, including some £10,000 worth of CCTV, but still does not feel safe.
Matthew Harbinson defending said: "Bevan has never had a clear recollection of what happened that night. He doesn't believe he ever made any threats to Mia's family prior to arriving at the address.
"Since the incident he has stopped drinking and feels that he is somebody who will benefit from professional support. In addition he is suffering from post traumatic stress disorder due to a trauma-related crime.
"He has made good progress in his own rehabilitation and has been discharged from Change Grow Live, Gloucester's drug and alcohol recovery service.
"On this particular occasion, the snips, while sharp, are not really dangerous and they were not deployed. It wasn't a knife."
Bevan pleaded guilty to assaulting Derek Cornock in Lydney causing him actual bodily harm on March 28, 2021 and being in possession of a bladed article – a pair of snips – in Highbury Road, Bream, on the same date.
Judge Ian Lawrie QC told Bevan: "You attacked Derek Cornock with full fury. You caused him to suffer significant injuries. I hope that having heard the victim impact statement you now realise the harm you have caused.
"The victim was elderly, a good deal older than you. He would have been vulnerable because of his age. If you had been sober you would have realised that.
"I am sentencing you to a prison sentence of two years, suspended for two years and this is because of the contents of a pre-sentence report which suggests that you don't pose a significant threat in the future and that there is a real prospect of rehabilitation.
"This is not an easy option as you will have a lot of work to do in the way of a number of requirements which include getting mental health treatment for your PTSD. You will also attend 20 rehabilitation days and undertake 150 hours of unpaid work as well as being monitored by monthly judicial reviews."
The judge ordered Bevan to pay £600 compensation and a £156 victim surcharge. He also imposed a three year restraining order banning Bevan from contact his victim by any means. He ordered the destruction of the snips.
Comments
To leave a comment you need to create an account. |
All comments 0