Forest raid in police op against drugs in county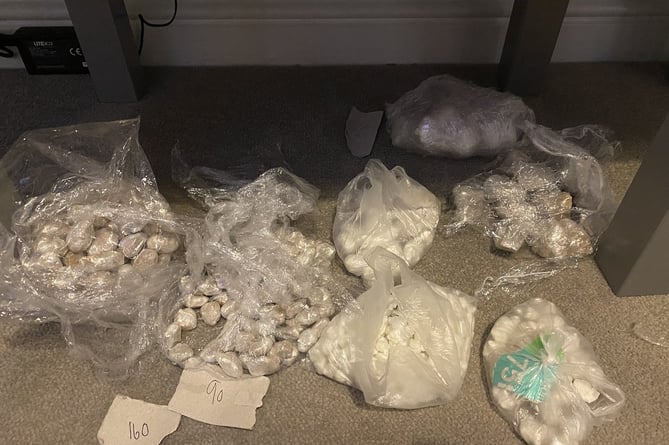 Some of the drugs seized as part of Operation Scorpion
()
Subscribe newsletter
Subscribe to our email and get updates right in your inbox.
A FOREST man is under investigation for drugs manufacturing following a major police investigation across the South West.
Police say £5,000 worth of cannabis was found at an address raided as part of Operation Scorpion.
In total, police executed 11 warrant which led to 19 people being arrested, £130,000 worth of drugs being seized and two drugs lines being disrupted.
The seizures included a kilo of heroin valued at £100,000, 197grams of crack worth £19,270, £10,000 worth of cannabis and ketamine and 15grams of cocaine valued at £1,500.
A covert operation, code-named 'Scorpion' involved five police forces and was carried-out over a week ago, but had to remain secret while a national initiative targeting other organised crime groups was also underway.
It was the first time the South West's five Police and Crime Commissioners and Chief Constables had worked together on one combined operation with one objective.
The ground-breaking initiative ran alongside other nationwide activity against so-called county lines organised crime groups, who deal drugs through complex networks across county borders.
In Operation Scorpion, police officers used a range of tactics, including enhanced surveillance of the road and transport networks, increased high visibility patrols in areas of high demand, carried out warrants at addresses used for drug dealing, and performed welfare checks on vulnerable people.
Gloucestershire Police and Crime Commissioner Chris Nelson said: "This is a big plus for the way in which all five police services in the region have been able to come together for the first time and launch a co-ordinated attack on drugs-related crime.
"Taking those people off the streets makes a real difference and should reassure the many law-abiding people in our communities who want to see drug dealers removed from where they live.
"It will also help to reduce crimes that feed off drugs and are fuelled by drug dealing.
"Dealers who prey on users, who often commit offences just to feed their habit.
"While big-city based organised crime groups, who deal in cross county lines operations, might be regarded as more serious, we want to send a strong message to local drug dealers that we are coming for you too.
"We also want to reassure our communities that we listen to what you tell us and shout from the rooftops that drug dealing at any level is unacceptable and anti-social."
Automatic Number Plate Recognition (ANPR) systems, which help officers check if a vehicle has any links to criminality, was used on major routes in and out of the county throughout the week, in one case leading to a car being stopped and taken off the road and a quantity of drugs being seized.
Detective Inspector David Shore-Nye, who coordinated the operation in Gloucestershire, said: "We understand how devastating drugs crime can be – whether that's to local communities who have to suffer the related anti-social behaviour and stigma of it on their doorsteps or the vulnerable people often exploited by the drugs gangs.
"We have targeted the supply chain hard but I would ask even recreational users to think about those links and how they could be contributing to the work of these criminal gangs.
Comments
To leave a comment you need to create an account. |
All comments 0