Berry Hill youngsters enjoy victory in France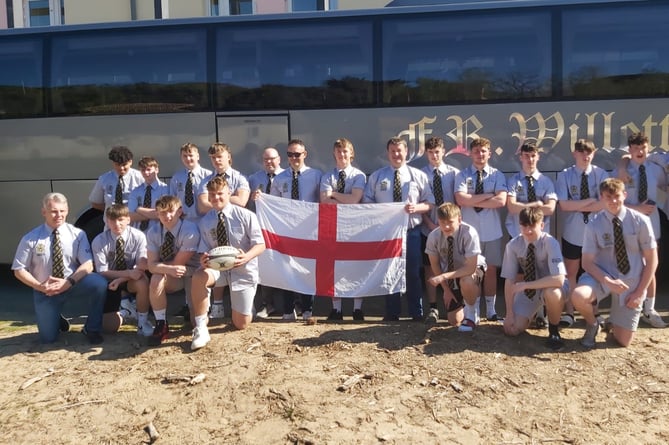 Berry Hill Under 16s travelled to St Hilaire de Riez, Coleford's twin town, and came away with a 19-29 win
Subscribe newsletter
Subscribe to our email and get updates right in your inbox.
OVER the Easter weekend a group of over 30 youngsters and their parents travelled to St Hilaire de Riez, Coleford's twin town in the Vendee region of western France, for the annual Under 16s international game between Berry Hill RFC and Rugby Club St Hilaire Ocean.
Previous games have been won by Berry Hill - 2018 in St Hilaire (16-61), 2019 in Coleford (22-18) and this year was no exception with a final score of 19-29 in Berry Hill's favour.
During the weekend, as well as the rugby, the group were treated like royalty by members of Asso EFB (the twinning association in St Hilaire) with visits to local towns, a micro brewery tour, an evening of bowling, and a farewell meal with members of the twinning association, rugby club and officials from the Town Council including the Mayor of St Hilaire Mde. Kathia Viel.
Speaking after the tour, Neil Williams, team manager said: "The friendships forged between the English and French boys was a joy to see and quite frankly very touching.
"Considering they had played a very hard game of rugby against one another, and the language barrier for many, to see the teams wholly united signing together within an hour of the match was a superb memory to cherish.
"The real winner was the coming together of two countries, two towns and two fantastic groups of boys who have forged lifelong friendships.
"Everyone will be talking about the visit for a good while and probably reminiscing for many years to come".
Tour captain Joseph Williams commented that the tour had been a fantastic experience making lifelong friendships and memories with his own team mates and the players of RCSHO.
The match was against a typical French team with lots of pace who were willing to run the ball from all over the field but the physical approach of the Berry Hill team had carried them to victory.
Cllr Nick Penny, Mayor of Coleford and treasurer for the Coleford Twinning Association who joined the tour added: "Having been present at all three of the U16 international matches between our towns it was wonderful to see the strong bonds that were formed on and off the pitch during this tour.
"As a town, and twinning association, we have always recognised the importance of involving our younger people with the exchanges to ensure a sustainable future for the twinning.
"All members of the travelling party represented themselves, their clubs and the town to the highest possible level and it was a privilege to be a part of another successful exchange".
In April 2023 it will be the turn of Rugby Club St Hilaire Ocean to travel for the fixture, and everyone looks forward to welcoming them back to Coleford and to Berry Hill RFC.
If anyone would like to know more about the Coleford Twinning Association, or to join, visit www.colefordtwinning.org.uk
Comments
To leave a comment you need to create an account. |
All comments 0