Results of Olcán's life saving op are 'positive'
Wednesday 11th May 2022 6:00 am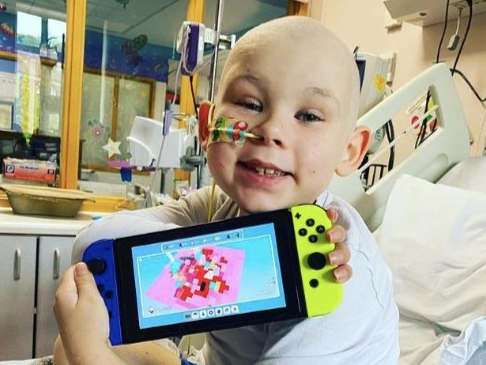 Subscribe newsletter
Subscribe to our email and get updates right in your inbox.
A YOUNG lad who pleaded for a 'superhero' stem cell donor is on the mend after a life-saving operation.
Seven-year-old Olcán Wilkes, who lived in Newent until moving to Northern Ireland last summer, was boosted before the transplant op at a Bristol hospital by a video call from England's football team, including Harry Kane, Harry Maguire, Jordan Henderson and manager Gareth Southgate.
And now his family have announced that the cells from his Czech donor have 'engrafted' and his platelet count is rising.
Last week's news came days after a charity football match at Newent FC's Wildsmith Meadow in aid of the DKMS international bone marrow centre based in Germany, which helped Olcán find his 'superhero' after a six-month search.
His mum and dad Sam and Genevieve posted last Friday: "Olcán's cells have engrafted - this is living proof of the impact donating your stem cells can have.
"To our Czech Republic superhero, there are no words that can match our gratitude for what you have done for us. So selfless!!"
And Olcán himself confirmed the news on a video film from his hospital room, saying: "The tests have come back and I'm 100 per cent superhero!"
The youngster fell ill with the two-in-a-million aplastic anaemia condition last August weeks after moving to Northern Ireland, when his mum noticed he was covered in bruises following a football camp.
While undergoing treatment, the boy's former school St Joseph's RC Primary in Ross-on-Wye helped keep up his education via a classroom robot device called the 'BubbleBuster'.
But searches for a donor for Olcán's rare tissue type failed to find anyone by the end of the year, prompting the ailing youngster and his parents to appeal for a 'superhero' to save his life.
The illness left him dependent on exhausting weekly platelet transfusions and twice-monthly blood transfusions, and he had to stop running, swimming and playing.
Making an online video appeal back in December, Olcán joked that his bone marrow "needs a kick in the butt!"
"Doctors tell me that I need a superhero to give me some of their bone marrow and can you be my superhero?" he asked.
The appeal for people to sign up to the Stem Cell Register brought the fantastic news in mid-January that a tissue match had been found in eastern Europe.
And following the operation at the end of March, Olcán is on the way to recovery.
Healthcare project manager Genevieve posted just before the results confirmed the op's success: "We've had some big bumps in the road but I'm glad to say it's all looking positive…
"All his levels are heading toward normal ranges and his platelets hit above 100 today after eight months of being in single digits. Ideally we want them 300+ but it's a massive win.
"His immunity is returning and they have said today that they believe the new cells are engrafting…
"His red blood cells are above 110 also today which have hit normal range for the first time since diagnosis.
"Olcán is definitely happy about it and his 10-day fever has finally been quiet for the last 24 hours!!!.
"Emotionally and physically exhausted and the journey is only beginning but today we celebrate."
Dad Sam, a farmer and former firefighter, stayed behind in Newent owing to work commitments when the family relocated to County Antrim.
And a football team representing the town's heating and ventilation business GSM Ltd took on MKM Building Supplies in a charity match in aid of the stem cell centre a week last Sunday, followed by a charity raffle for the likes of a solar power system, tools and vouchers.
A spokesperson said: "A great day ended in a draw with MKM clinching the victory on penalties. Thanks to all who donated and took part."
Olcán's family posted: "A huge thank you to GSM LTD for all their hard work and MKM Building Supplies for participating. DKMS is an amazing cause that save lives everyday."
For more information, go to the 'Stem Cell Donor for Olcán' Facebook page and www.instagram.com/theincredibleolc/
Comments
To leave a comment you need to create an account. |
All comments 0