Cinderford Leisure Centre faces uncertain future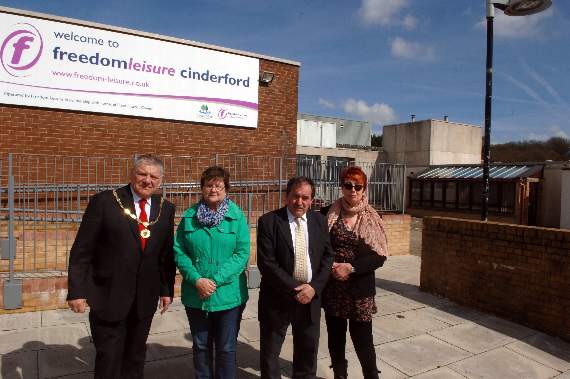 CONCERNED: Local councillors, Max Coborn, Lynn Sterry, Graham Morgan and Di Martin at the leisure centre in Cinderford.
()
Subscribe newsletter
Subscribe to our email and get updates right in your inbox.
CINDERFORD Leisure Centre and Swimming Pool faces an uncertain future as the district council considers an £870,000 bill to refurbish the site.
The leisure facilities at Forest High School off Causeway Road have fallen into disrepair over recent years and an inspection conducted by Bruton Knowles in February revealed a ten year maintenance plan would cost an estimated £622,365.
A joint use agreement was set up in 1977 between what was then Double View School and the Forest of Dean District Council. The deal stated that internal repairs and maintenance was split on a 45 to 55 percent basis with the district council taking on the larger portion.
However, the agreement expired in 2007 and after South Gloucestershire and Stroud College, who own the site, took over the school in 2015 it notified its wish to terminate the deal because it can no longer afford to maintain the facilities.
Kevin Hamblin, chief executive officer of SGS, said: "The leisure facilities are a millstone around the school's neck and we can't cope with it.
"It would be wrong for us to make redundancies in order to finance the provision of leisure to the community.
"We aren't locking the public out of the swimming pool and leisure facilities.
"We are more than happy for the district council to have the asset and run it."
According to the council if an agreement is not met before May 30 Freedom Leisure will cease to have access to the premises, however SGS have stated that they are happy for a temporary agreement to last until August.
The council will be considering its options for a long term solution on April 7 at its cabinet meeting in Coleford. These include a £870,000 full repair lease, a joint repair deal with Freedom Leisure which would cost £1,470,000 or a revised agreement with SGS which is estimated to cost £500,000.
A spokesperson for the district council said: "Both parties have been working to approve new terms, but a mutually agreeable solution has not been reached. 
"To ensure continued public use from June 2016, the council requested a temporary extension of the existing contract on the current terms to allow time for further negotiation, but to date this offer has been rejected by SGS.
"At this stage the options proposed by SGS all require the council to make substantial investment and these proposals will be considered by council in April.  In the meantime the council remains open to further discussions with SGS."
Despite ongoing negotiations since last May, local councillors say they have been 'kept in the dark' by the district council's cabinet and say the whole issue has been 'sprung' on them.
District Councillor Graham Morgan (Lab, Cinderford East) said: "SGS are certainly not the ogres in the piece.
"They are not closing the swimming pool off to anyone.
"The district council needs to bite the bullet and take on the responsibility for the site."
Comments
To leave a comment you need to create an account. |
All comments 0