Newent's Olcán finds his 'superhero' donor
Saturday 16th April 2022 6:00 am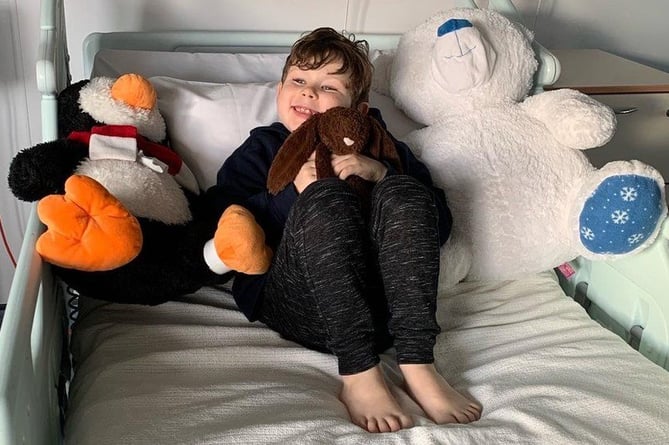 Olcán Wilkes had the lifesaving transplant after the search for a donor was successful
Subscribe newsletter
Subscribe to our email and get updates right in your inbox.
A POORLY boy who appealed for a 'superhero' to provide him with a lifesaving bone marrow transplant has had an operation after a long search for a donor finally succeeded.
Last December, seven-year-old Olcán Wilkes and his family told people in an online appeal they were running out of time.
Olcán lived in Newent until moving back to Northern Ireland last summer, but fell ill in August and was diagnosed with a two-in-a-million condition called aplastic anaemia.
While undergoing treatment, his old school St Joseph's RC in Ross-on-Wye has helped keep up his education via a classroom robot device called the 'BubbleBuster'.
But as reported previously, searches for a donor for Olcan's rare tissue type failed to find anyone by the end of the year, prompting the ailing youngster and his parents, Sam and Genevieve, to ask for a 'superhero' to save his life.
The illness left him dependent on exhausting weekly platelet transfusions and twice-monthly blood transfusions, and he had to stop running, swimming and playing.
But their appeal for people to sign up to the Stem Cell Register brought the fantastic news in mid-January that a tissue match had been found, not from just one person, but two.
And two weeks ago, Olcán said goodbye to younger brother Hunter and travelled to a Bristol hospital to have the transplant operation.
During the procedure, one of his parents posted: "I asked him if he felt like a superhero yet to which he responded "how am I supposed to know what that feels like?" – a very valid response. How does one know if they are a superhero."
But posters hailed the youngster's super powers, one woman saying: "He only has to look in the mirror to see one."
And a woman from Newent added: "He is a superhero, I think we can all agree on that. Bless his heart xx."
Making his online video appeal back in December, Olcán joked that his bone marrow "needs a kick in the butt!"
"Doctors tell me that I need a superhero to give me some of their bone marrow and can you be my superhero?" he asked.
The youngster's spirits and learning were kept up by teachers and classmates at his old St Joseph's RC School via a small, friendly home-controlled desktop robot which follows the teacher and class around, allowing Olcán to continue his treatment without missing out on classes and interaction with friends.
He fell ill with the life-threatening condition shortly after moving from Newent to County Antrim in July, when mum Genevieve realised he was covered in huge bruises after attending a football camp.
In September doctors diagnosed aplastic anaemia, and on top of that, medics found evidence of paroxysmal nocturnal hemoglobinuria (PNH) in Olcán's blood, another rare blood disease that can cause blood cells to break apart.
Dad Sam, a farmer and former firefighter, who had stayed behind in Newent owing to work commitments, said at the time: "We were crushed to find out Olcán is a rare tissue type.
"He falls into the small percentage with no match. Hunter wasn't a match and not one match on the 38 million global register…
"Olcán's blood counts are so low this makes him extremely susceptible to all infections and can be fatal."
After news that a donor had been found, healthcare project manager Genevieve said: "Somebody somewhere has only just signed up to the register and they got that phone call, what an amazing thing… These are people that don't know us and I think that's an incredible thing to do, it's so selfless."
For more information, go to the 'Stem Cell Donor for Olcán' Facebook page and www.instagram.com/theincredibleolc/
Comments
To leave a comment you need to create an account. |
All comments 0