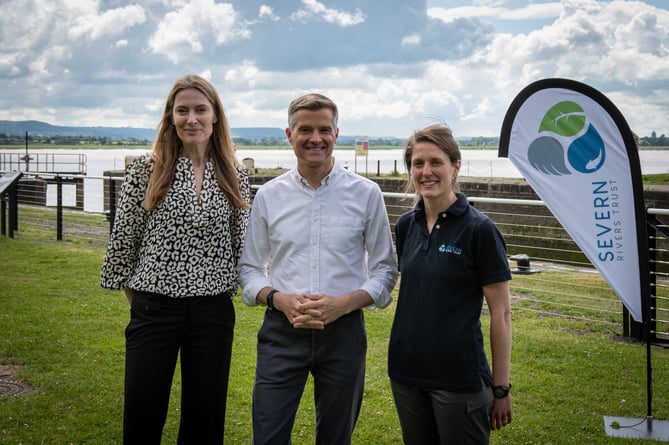 Liz Nieboer of Suntory Beverage & Food GB&I, Forest of Dean MP Mark Harper and Alice Fallon of the Severn Rivers Trust at the launch of the Water Wisdom sessions on Tuesday (May 31)
()
Subscribe newsletter
Subscribe to our email and get updates right in your inbox.
FAMILIES from the Forest got stuck into half term at Lydney Harbour this week by learning all about the value of local watercourses to people and the environment.
As part of a project funded by Suntory Beverage & Food (SBF) GB&I, known locally for making Ribena and Lucozade at its factory in Coleford, locals were invited to book onto the first in a series of free-to-attend 'Water Wisdom' activity days at the harbour yesterday (Tuesday, May 31), led by local environmental charity the Severn Rivers Trust.
The initiative from SBF GB&I aims to highlight the importance of "the life cycle of water" within communtiies, and encourage participants to act to protect watercourses for wildlife and people as part of the company's commitment to sustainability.
The family-friendly activities focused on learning about river wildlife and the "wonderful" water cycle through a series of practical experiments and craft activities.
Forest of Dean MP Mark Harper also attended to launch the session and show his support for the initiative, and even took part in some of the water-themed activities.
Mr Harper said: "The partnership between Suntory and the Severn Rivers Trust is bringing the Water Wisdom Day concept to Lydney in my constituency and I hope families from across the Forest of Dean take the opportunity to learn more about protecting our environment.
"This initiative is all about getting local families along and teaching them how to conserve water, how to use water better, and also to highlight some of the things that Suntory has been doing.
"I had the pleasure of opening their new bottling line which uses 40 per cent less water than previous production methods.
"Its about how we use water sensibly, how we conserve it properly and how we improve our natural environment, which is really important for people who live here in the Forest of Dean."
The sessions with the Severn Rivers Trust (SRT), which works to protect the health of the Severn across the entire region, are being held at locations throughout the catchment this summer.
This week's session carried the theme 'Wonderful Water', which involved learning about the water cycle, how important trees and plants are for maintaining the health of rivers and reducing flooding, and how they support river processes.
Severn Rivers Trust's Head of Community Engagement Alice Fallon, who led the session, said: "We are delighted to be working with SBF GB&I to run these fun hands-on activities to introduce local families to their amazing rivers and bring to life why water is such an important resource."
The initiative is inspired by a similar scheme from SBF GB&I's parent company Suntory Group, which has engaged more than 290,000 people around the world to date.
Liz Nieboer, Head of Sustainability at SBF GB&I, commented: "It's been wonderful to see so many people attend our first ever Water Wisdom Day at Lydney Harbour and shows the enthusiasm of the local community to want to learn more about this precious natural resource.
"As a soft drinks business, water is in everything we do and I'm really excited to see how this programme with Severn Rivers Trust develops throughout the year."
For details about future events, go to www.suntorybeverageandfood-europe.com/en-GB/gbi/sustainability/planet/water.
Comments
To leave a comment you need to create an account. |
All comments 0