Hundreds gather for controversial protest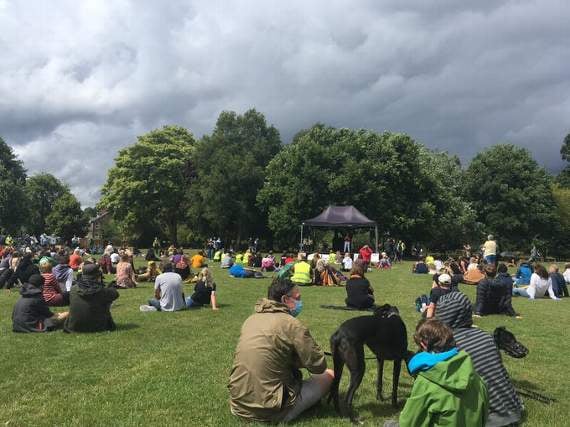 Subscribe newsletter
Subscribe to our email and get updates right in your inbox.
ORGANISERS say Saturday's Black Lives Matter demonstration in Lydney was a "moving and powerful" show of peaceful solidarity.
Around 300 people attended the "celebration of black culture" at Bathurst Park after controversy overshadowed the build-up to the event.
Some 20 veterans were also there on Saturday afternoon, 'protecting' local war memorials and the Garden of Remembrance, but there was no sign of trouble.
Lydney Town Council had initially approved the event in the popular town centre park, which is overseen by councillors as part of a trust, but then withdrew its support after hearing that more than 1,000 people might attend, claiming that a mass gathering could spread Coronavirus.
That prompted the resignation of Labour councillor Zac Arnold, who said the council were breaching people's human rights, only for the council to accept it had no power to stop the event after advice from Gloucestershire Police that a ban could cause legal problems.
Council deputy mayor Tess Tremlett then tendered her resignation, saying a mass protest could put people's lives at risk, while Forest MP Mark Harper demanded an apology from organisers over "insulting" claims of racism after he had criticised the holding of mass gatherings in the Commons.
As it turned out, around 300 attended rather than the predicted 1,000, and those who came wore masks and socially distanced themselves in zones marked out by organisers.
Speaking during the event, which ran from 2pm to 4pm, event spokesperson Khady Gueye said: "We decided to organise a celebration of the black ethnic culture and the Black Lives Matter movement… to do something that was going to highlight the movement.
"We didn't want to do a protest, we wanted to see something that was going to amplify the culture… We've had a really good turnout and I'm pleased with how it's going."
Co-organiser Eleni Eldridge-Tull added: "We really wanted to do something that shows support locally.
"It's been quite a job to protest, (and) we have had a lot of backlash we've tried to address, all of the genuine Covid 19 concerns and… we've got masks on, there are PPE stations, marshals and we've marked out spaces on the fields, and we planned to do all of that from the get go and this was always are intention and we always wanted to be respectful of that."
Eleni, who lives in Lydney, said later: "Khady and I are so proud of everything we achieved yesterday. We are so grateful for all of our speakers for a truly moving and powerful day."
The duo decided to hold the event after the death of black American George Floyd at the hands of police sparked protests around the world calling for an end to racial injustice.
A small stage hosted speakers talking about their everyday experiences of racism, while Cllr Di Martin, the Forest's Labour candidate at the last general election, spoke of her support for the BLM movement.
Nylah, aged seven, whose poetry reading went viral after a similar event in Cheltenham, read her poem Black which she wrote with her father and was inspired by Dave's song of the same name, and there was also live music.
Placards bearing slogans like 'white silence is violence' and 'all lives don't matter until black lives matter' were displayed by those attending, while people also added their signatures to an anti-racism pledge adorned with a black fist.
Lydney vicar Rev David Gardiner also left a banner on the railings saying "All Lives Cannot Matter Until Black Lives Matter', although he posted that he couldn't stay as he had 'a funeral on Monday' and 'had to limit contact'.
He added: "A very positive event, peaceful and passionate. Thank you to all who made today possible."
At the end of the event, people 'took the knee' holding signs in the air for an eight-minute silence to remember George Floyd - the length of time he was held by the police before he died.
Lee Hyett was among those who posted about the event, saying: "Just got back from the Lydney BLM Event - wonderful, peaceful protest, great speakers, great attendance.
"Thank you so much to Khady Gueye and Eleni Eldridge-Tull for going to the trouble of putting on and organising this event in the face of so much opposition. The fight goes on!"
Dr Helen Scott posted: "It's not ok to stay silent in the face of injustice. We're here showing solidarity in Lydney today."
Comments
To leave a comment you need to create an account. |
All comments 0