Elderly residents frustrated as water leak 'just left'
Friday 13th May 2022 6:00 am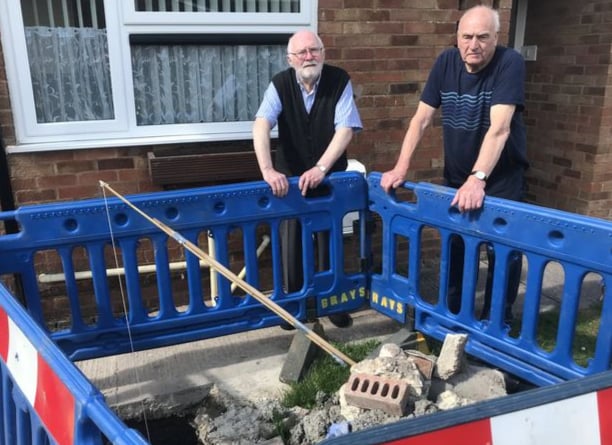 Willowdean residents Peter McKinley and John Merry say the leak outside their homes was left for two weeks after being excavated
(Tindle )
Subscribe newsletter
Subscribe to our email and get updates right in your inbox.
RESIDENTS of sheltered housing in Cinderford didn't know where to turn to fix a pipe that is leaking "gallons" of water into a deep pool outside their homes - so they set up a makeshift fishing rod to help flag it to the authorities.
Willowdean resident Peter McKinley says he and his neighbours have been hearing a water leak from a pipe outside their homes since January, and that water has flooded the paths and lawned areas at the sheltered housing complex.
And the elderly occupants became frustrated that neither water company Severn Trent nor Two Rivers Housing, which owns the site, seemed to take any responsibility for fixing the leak.
Peter says that two weeks ago, Severn Trent went out to inspect it and a hole was dug above the pipe to investigate.
But after the hole was dug, he said the engineers "just left it", and that "thousands of gallons" of water have since been lost into the hole.
His neighbour John Merry decided to poke fun at the situation by adding a fishing rod - made from a bamboo cane, some string and a fishing float - to the pool and adjoining pile of earth and rubble.
Peter says no work was done in two weeks to repair the leak or excavated land, and he and other residents didn't know where to turn as they couldn't ascertain who was responsible.
He says he contacted Severn Trent and they said it was a problem for Two Rivers, while Two Rivers told him it was up to Severn Trent to repair.
"Noone seems to want to take any responsibility for it, we're losing thousands of gallons of water here", he said.
"I'm always hearing that water is a precious commodity, but no one is doing anything to fix it."
Peter says he has approached Forest MP Mark Harper's office to help, and has been told that they would look into the issue to see who is responsible.
He says Severn Trent told him that local residents will not be charged for the water that is leaking, but he added: "If we are going to be charged for it, it's going to cost us a lot of money".
A spokesperson for Two Rivers Housing told The Forester last Thursday (May 5): "We were made aware of the leak at Willowdean in January, however due to staff shortages we contacted Severn Trent and asked them to complete the work on our behalf.
"Since then, we have been working with Severn Trent to resolve the situation.
"They attended the site twice in April but were unable to fix the issue at that time and have not been able to provide a date for when the work will be 
completed.
"As a result, we have sent our own operatives out to the site this morning (Thursday, May 5) to start the works and resolve the issue.
"We would like to apologise to tenants at Willowdean for any inconvenience this issue has caused."
Comments
To leave a comment you need to create an account. |
All comments 0