New Head for Forest High School outlines his strategy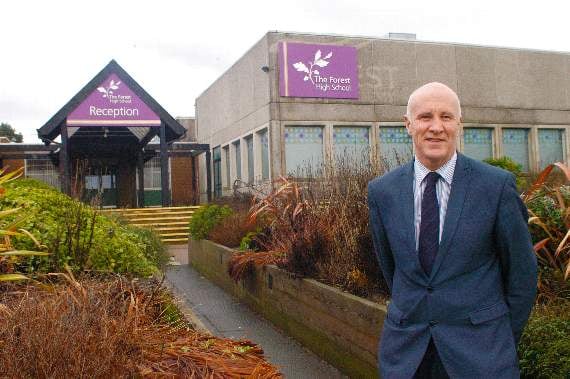 NEW HEAD: Paul Holroyd is the new head at Cinderford's Forest High School.
()
Subscribe newsletter
Subscribe to our email and get updates right in your inbox.
AT first meeting, Paul Holroyd, the new head teacher at Forest High School is deceptively soft spoken.
But it quickly becomes apparent that what he lacks in volume he more than makes up for in his steely determination to turn around the fortunes of the school.
The school was placed in Special Measures after a damming Ofsted report in May 2015 shortly after it was taken under the wing of South Gloucestershire and Stroud College.
Since then the school appeared to be making steady progress with a very positive Ofsted monitoring report in December 2015.
However, the latest Ofsted report in September last year was less glowing.
It read: "Disruptions to the senior leadership of the school led to the momentum generated by the time of the previous monitoring inspection in December 2015 not being maintained."
Mr Holroyd now faces the task of getting the school back on track to come out of special measures and he is under no illusions.
"We know the size of the task we've got," he said. "We know the most important thing is to get out of special measures and to restore our connection with local community which has faded over the last few years.
"I see this as my job for the rest of my life - it is now my raison d'etre.
"My intention is to make Forest High the first choice school for parents in Cinderford.
"I don't want to see buses lined up in the morning to take children to other schools.
"At the moment we are under subscribed with 320 pupils with the capacity for 450. Our aim is to reverse that trend.
"On the plus side we have a very dedicated, professional and talented staff and our pupils are incredibly respectful and well behaved.
"We have full complement of 20 teachers, as the trust has worked hard to make sure we have full staff.
"Obviously we are not well served by this building, which dates from the 1970s and is showing its age.
"We want to have the best facilities we can.
"Ideally I would like to knock it down and start again but at the moment that's not an option we have.
"Cinderford definitely needs a school.
"It has a growing population with new housing estates planned.
"Although this building dates from the 1970s we have a proud tradition dating back to the old Double View School and we still have the old First World War memorial from that school in our reception area."
On reviving community links, he said: "We have started by recreating the PTA as the Friends of Forest High with an inaugural meeting last week.
"We are looking forward to fund raising activities like reviving the Summer Fayre that was last held two and a half years ago.
"This has been scheduled for Thursday, July 6.
"It will consist of all the usual stalls, live music, refreshments, a barbecue, and our aim is to get the students involved as well."
Mr Holroyd is himself a former Ofsted schools inspector and has extensive leadership experience in a number of schools in Gloucestershire since he took up a Head of Learning Support at Central Technology College, now Gloucester Academy, in 1990.
He went on to become deputy head at Gloucestershire Pupil Referral Unit, where he was appointed headteacher before moving onto the Gloucester, Forest and Stroud Pupil Referral Unit for four to 16-year-olds.
Mr Holroyd joined Forest High School from Woodway Federation of Schools, where he was executive principal of two special schools.
On his appointment, Nigel Johnson, chairman of Forest High School Governors, said: "From a strong field, Mr Holroyd impressed the final selection panel with his knowledge, student centred approach to education and learning, his inclusive management style and his understanding of curriculum and quality issues.
"Given time, this school will be turned around – we are already seeing improvements coming through and with our sponsor, SGS Academy Trust behind us, we have every expectation that we can make this school the first choice for the community we serve."
Comments
To leave a comment you need to create an account. |
All comments 0