Dymock couple fined £63,000 for polluting River Leadon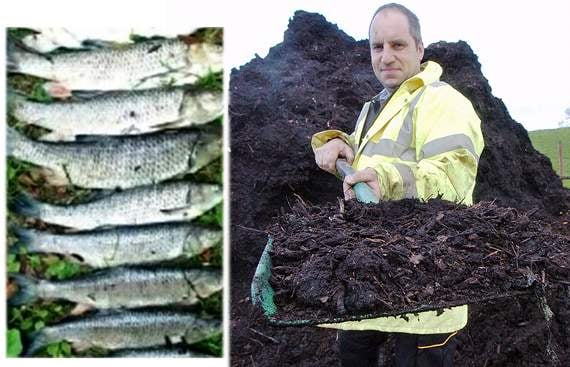 POLLUTION: Mark Bennion of Rose Hill Farm, Dymock and some of the dead fish recovered from the River Leadon in July 2016.
()
Subscribe newsletter
Subscribe to our email and get updates right in your inbox.
A DYMOCK couple who contaminated around 12 miles of watercourse, killing more than 15,000 fish, have been ordered to pay £31,468.55 each in fines and costs.
Mark Francis Bennion, 55 and wife Anne, 53, of Rose Hill Farm, Dymock, both pleaded guilty to causing a water discharge activity of digestate into the Preston Brook and River Leadon at Hereford Magistrates' Court.
Ebony Mitchell-Whyte, prosecuting, told the court how negligence through a lack of a system of rigorous checks on the 1,100-acre farm's irrigation system contributed to the deadly spillage on July 22, 2016.
She explained that a system of pumps and valves on the farm is designed to take fertiliser the orchards and an employee did a visual check, but failed to notice the stand pipe was partially open and the cap was left up by a contractor a month prior.
Miss Mitchell-Whyte told the court how the stand pipe was only 10 metres away from the watercourse and Mr Fleetwood, who was working on a different field, was not aware that digestate was being pumped out of it.
But after five hours another employee went to the field where the stand pipe had been pumping 100 tons an hour and discovered the leak.
By the time Environment Agency officers arrived, the pollutants had travelled downstream and contaminated the River Leadon - it would go on to reach as far Upleadon Bridge.
Barrister Adam Farrer, defending, told the court Mr and Mrs Bennion were hard working people, of good character, and had co-operated fully with the Environment Agency during their investigation and added that safety measures had been tightened up at Rose Hill Farm since the incident with workers now being required to sign for a key to open the locks to the valves.
Mark and Anne Bennion were each ordered to pay a £5,500 penalty, £25,798.55 in costs and a victim surcharge of £170.