Man who stalked Lydney woman caused 'untold distress'
Monday 21st February 2022 12:00 pm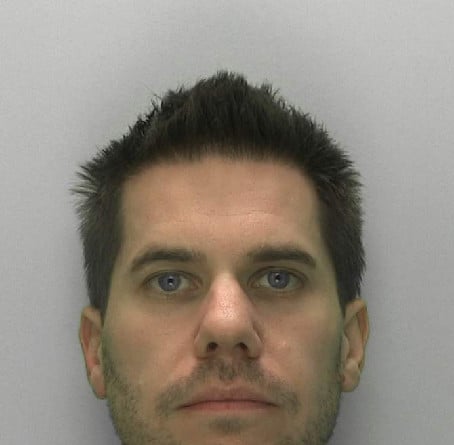 Gavin Eyles was described as a bully by a judge.
(Gloucestershire Police )
Subscribe newsletter
Subscribe to our email and get updates right in your inbox.
A Judge branded an actor "a bully and control freak" for stalking a woman from Lydney.
Judge Ian Lawrie QC also praised the victim's courage in giving evidence despite the efforts of Gavin Eyles to scare her off.
Judge Lawrie said: ""You tried to scare her off from giving evidence in your trial, but regardless of your efforts, she still made her way to court.
"Her courage in coming to court is to be applauded.
"You are a bully and clearly a control freak. You didn't care that what you were doing had an effect on her life.
"You haunted her, you questioned her, you caused her untold distress. You put pressure on her right up to the last moment of these court proceedings and you invaded the sanctity of her home, causing her additional emotional stress."
The judge jailed Eyles for two years and eight months and ordered him to pay a victim surcharge of £170. He also subjected him to a 10-year restraining order not to contact his victim by any means and prohibited him from entering Gloucestershire.
But he added: "You clearly merit custody, but as you've served a long time on remand – the equivalent of a three year prison sentence - it is likely that you will be released shortly."
Judge Lawrie concluded: "Your advocate indicated that as an actor you might be required to work in the county at some point, but I am afraid you cannot be trusted. Additionally your victim needs reassurance that you will not be lurking around the corner from her home."
While in prison Eyles, of Oak Close, Chipeenham had phoned the woman 128 times and investigators later found that he had listed her on the phone as Judy Hopps – a character from the film Zootopia Troppalis in which he had appeared.
Eyles and the woman had met on social media in March 2019 and he admitted to her that he had been convicted in 2008 of causing a former partner actual bodily harm by cutting off her hair as she slept, said the prosecutor.
Eyles had also been jailed in 2010 for 42 days for coercive behaviour towards the same ex-partner, said David Maunder, prosecuting.
Gradually Eyles began to control his new girlfriend's movements and the situation worsened when he moved in with her at the start of the pandemic, he said.
"He stopped her from seeing her friends she had known since school. He made her feel guilty about seeing her own family. He began monitoring the use of her mobile phone.
"He also dictated to her what clothing she could wear – 'nothing too revealing,' he would state. He would tell her he didn't want her looking like a drag queen.
"He told her she was stupid and uneducated. He would force her to indulge in certain fetishes."
At that point in the hearing, Eyles screamed out that he had heard enough and he left the dock to go down to the cells below.
Mr Maunder continued "He appears to have a foot fetish. "He would also insist that she bathe with her socks on. He also had kinky habits in the bedroom, which frightened the woman."
Eyles then returned to the dock and the judge warned him: "This is a courtroom, not a film set."
When she tried to end the relationship in July 2020 he tried to convince her she had mental trauma.
Police and other bodies became involved and she told him to return to his own home.
"However, Eyles then began his campaign of stalking her."
In August she went out with friends and accidentally sent a message to Eyles but when she returned home she found him in the wardrobe.
Mr Maunder said: "The woman found Eyles' knees sticking out at the bottom of her wardrobe. She states that at that moment she was the most scared that she had ever been in her life.
"Eyles had written or scratched 'Gavin' in a number of places around the house, including her make-up stool."
Eyles was arrested on August 27 and given bail conditions not to contact his victim and not to enter Gloucestershire but he then began a protracted harassment campaign.
"She began receiving silent calls. She could hear romantic songs being played down the line, songs that she and Eyles had talked about using for their future wedding," said Mr Maunder.
The court heard that Eyles was bailed on September 10, 2021 but then continued his harassment of the woman.
The next day the victim found Eyles had changed her Netflix profile and had started watching Twilight, a film that they had watched together at the start of the relationship.
"Four days later she returned to her Netflix account and noticed that the film Hurricane had been watched – a film that Eyles had appeared in," said Mr Maunder
"He was re-arrested on September 17 and a number of electronic devices were seized. Eyles was remanded back into prison by the courts."
In a statement, the woman said: "During the 18-month relationship I felt worthless. I felt I was living on edge. Eyles constantly made me feel stupid by suggesting that I had mental health issues. Because of my declining health and my anxiety I felt I had low self esteem. My physical appearance changed.
"After the relationship was over, I still felt as if I was being monitored all the time. I even checked the teddy bear on top of my wardrobe to see if it had a hidden camera in it.
"Whilst he was in prison he still managed to contact me, even though he was prohibited from doing so. I thought he would never go away.
"I don't know as I can ever trust a man again.
"I feel like a nervous wreck all the time. The effect it has had on me has made me feel very anxious."I can't understand why somebody would do what Eyles did. He left me feeling hurt. He used me as his plaything."
Peter Binder, defending, said 37-year-old Eyles recognised he had "issues with his emotional make-up".
He said: "He tried to improve the woman's well-being by controlling her smoking and drinking.
He admits trying to influence her clothing but denies that he was a dictator.
"Basically he couldn't let go. He put his needs before hers. He now recognises that he has issues with his emotional make up. It is hoped that when he is released from prison, he gets the attention he needs from the professionals."
Comments
To leave a comment you need to create an account. |
All comments 0