Costs appeal by 'a living man known as John' fails
Monday 7th March 2022 7:00 am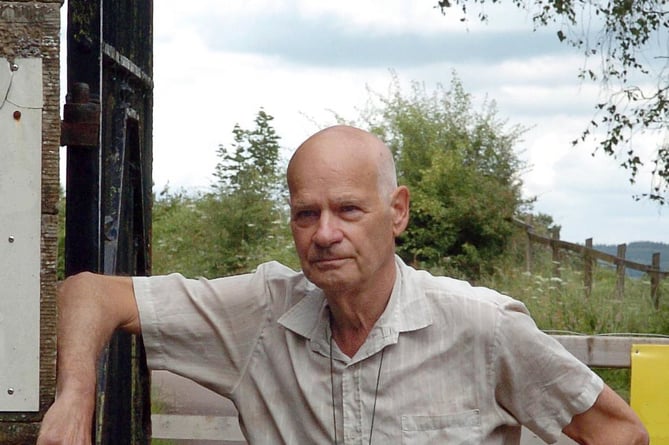 Subscribe newsletter
Subscribe to our email and get updates right in your inbox.
A RETIRED policeman who told a court was "a living man" rather than state his full name was told by a judge it sounded "like nonsense".
John Timbrell, of The Stenders, Drybrook was challenging an order to pay legal costs relating to his conviction for sending "vile and abusive" e-mails to an MP.
He was found guilty last year of sending three abusive emails to Antoinette Sandbach, then the Conservative MP for Eddisbury, Cheshire.
He lost an appeal at Swindon Crown Court last July and was ordered to pay the costs within three months
He appeared at Cheltenham Magistrates' Court to challenge the order to pay £415 but before he could be formally identified by the court clerk he stated that he was 'a living man known as John' and was there 'to seek justice.'
He told District Judge Nicholas Wattam that he had a served a 'statement of truth' on the court's fines and enforcement office.
"My name is on the statement of truth," he added.
"I am willing to give my name if you accept I am here as a living man and not taking responsibility for the legal fixture.
District Judge Wattam responded: "That all sounds like nonsense to me!"
Mr Timbrell replied: "I am John. Other people attach a surname to me of the family Timbrell. I am not the man that is represented on the documentation as Mr John Timbrell. I am not that man, I am a living man."
"Judge Wattam responded: "This all sounds 'freedom of the land' to me - is that what you are?"
The freedom of the land believes that people are only bound by laws if they consent to them.
Mr Timbrell said he was not and added: "This is my statement of truth. It is a sworn affidavit. I would prefer it if you would take it."
The judge reluctantly accepted the paperwork and then told Timbrell "I saw you in court in November last year and I was not satisfied with the information given to me by the fines office.
"I adjourned the case so that the fines office could provide more information."
Timbrell interjected: "I've asked for a copy of that order and I've yet to see a signed, sealed copy of it. Why?"
The judge stated that Timbrell was not entitled to have it and reminded him that the hearing was his appeal against a court notice that had been issued in respect of costs incurred at Swindon Crown Court.
Timbrell said: "I am representing the legal trust representing the living man known as John. I am not appealing if the process to date is correct, as I have described in the affidavit. It has not been rebutted.
"This document stands as a record of truth in commerce. He who does not deny admits and on November 4, 2021, the case was adjourned and therefore this fails by default and this can only be rebutted by a counter affidavit, point by point, resolution by jury or payment.
"Basically if a plaintiff does not prove his case, the defendant is absolved.
"It's simple, was there a court order from Swindon Crown Court, which is necessary for me to produce, before I can appeal against that order?
"I have repeatedly asked the fines enforcement office for a copy of this order contained within their files.
"I have served the affidavit which requires to be rebutted, but it has not been rebutted, so it now becomes a statement of law. If this is disagreed with it should have been put into writing so I could appeal against the decision."
Judge Wattam said: "Just to be clear Mr Timbrell, is this affidavit the basis of your appeal?"
Mr Timbrell replied: "I am not appealing. I am asking you to rule on the so-called evidence, which I have not yet seen from the fines enforcement office."
Judge Wattam responded: "I now have the information from the fines office concerning the order of the Crown Court. There is a print-out available for you, would you like to look at it?"
Timbrell said he was curious to see the document but added: "But it's too late. It is now no longer relevant."
Judge Wattam told Timbrell he was going to short-circuit the hearing, adding "The information I have states that on August 7, 2019, you were convicted at Swindon Crown Court of the criminal offence of harassment of Antoinette Sandbach MP.
"The sentence of the court was an 18 week prison sentence, suspended for 18 months.
"You were also subject to an indefinite restraining order not to contact her by any means.
"You were ordered to pay court costs, but you appealed that decision and this was heard at the Swindon Court in July last year.
The order was signed and sealed by Judge Peter Crabtree on November 24, 2021."
The court had previously been told that Mr Timbrell sent three 'vile and abusive' emails to the Conservative, and later Lib Dem MP for Eddisbury in which he called her a 'corrupt, dishonest and evil bully' between June 15, 2018 and January 11, 2019.
Mr Timbrell was offered a copy of the order by Judge Wittam but rejected it again and repeated that it was 'too late', adding that he had served the affidavit and that it had not been rebutted.
Judge Wattam responded saying this was 'nonsense' and ruled: "The court on July 12 heard Mr Timbrell's appeal against his conviction, which was dismissed, and the suspended prison sentence was upheld, as was the restraining order and the order to pay £415 court costs.
"You had three months to pay. This order was sent to this court for collection."
Mr Timbrell said: "I'm not interested in raising old issues. The affidavit is my statement of truth and I stand by it. When you have made your order I would like to walk out of this court with a sealed judgement.
"That original appeal, in my opinion was voided at the High Court. It was said by Lord Denning that you cannot appeal against something that does not exist.
"That case that went ahead before Judge Crabtree had already been voided.
"The MP, Ms Sandbach was allegedly promoting an act of treason, but of course you are now going to shut me up."
Judge Wattam told him that was not relevant and added: "Your appeal against your fines notice issued in July last year is dismissed. I am not giving you a platform to rehearse any arguments of this nature.
"There is no merit in your appeal. I will let you have a signed sealed copy of the order as requested."
Comments
To leave a comment you need to create an account. |
All comments 0