'End of an era' as diving centre closes for good
Thursday 24th February 2022 7:00 am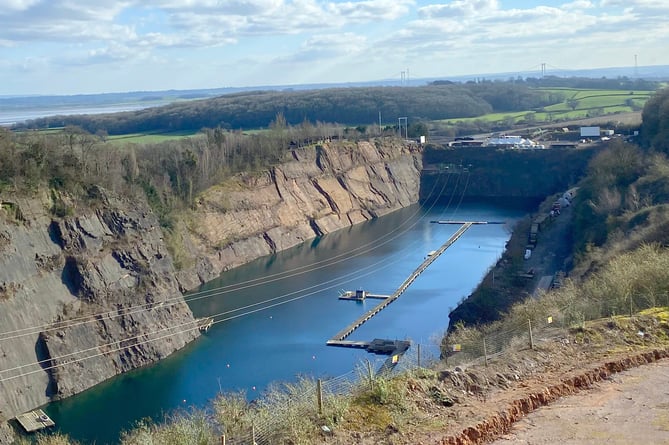 Subscribe newsletter
Subscribe to our email and get updates right in your inbox.
Scuba divers and adventure seekers across the country were left "in shock" after the owners of the National Diving and Activity Centre (NDAC) at Tidenham announced its' permanent closure last week.
The centre, located next to the A48 near Chepstow, posted a message to its social media accounts and website last Friday (February 18) informing customers that it had closed for good.
The notice said: "The National Diving & Activity Centre is permanently closed.
"We are not taking bookings for leisure activities or public diving.
"We'd like to thank all our customers for their support over the years."
The sudden closure came as a shock to NDAC customers, many of whom said they were "gutted" but thanked the staff for their memories of the centre through the years.
The flooded quarry at Tidenham had become one of the most popular inland diving sites in the UK in recent years, boasting underwater attractions such as planes and sunken boats at a range of depths to suit all abilities.
The centre also ran activities such as stand up paddle-boarding and kayaking, attractions such as a zip line and inflatable aqua park and facilities such as wooden wigwams and a wedding marquee.
It also hosted events such as the Halloween-themed 'FearFest Evil' and drive-in cinema experiences.
More than 600 divers and past customers expressed their sadness at the closure on the centre's Facebook page, with one person commenting: "The entire UK diving and free-diving community is in shock, such sad news. NDAC is my happy place, and I'm sure it's the same for many others."
Another said: "Such a shame to read this. I hope you manage to sell the site & that it can continue to offer facilities. Good luck to all of the NDAC team."
NDAC have so far given no reason for the closure.
The centre, which opened in 2003, has been in the news on a number of occasions over the years due to the deaths of divers.
Experienced diver Richard Saunders, a 52 year-old from Great Yarmouth, died at the centre in 2019 when he tried to bolt to the surface because he wrongly believed he was out of air.
Lance Corporal George Partridge, who was based with 26 Engineer Regiment in Wiltshire, died when he ran out of air during a military-run scuba course at the centre in April 2018.
Wlodzimierz Jurasz, a 28 year-old truck driver from Essex, died of 'the bends' after ascending too quickly from depths of 71 metres in October 2017.
An inquest in Gloucester in February 2018 heard that Mr Jurasz had dived solo 100ft deeper than he was qualified to, and ascended in minutes when he should have taken more than an hour.
Mary Restell, 54, from Tavistock in Devon, died when she was diving at 60m in November 2014.
An inquest found she had been using her own "sub standard" breathing equipment.
In 2004, friends Janine Davison-Evans, 27, from Stockton-on-Tees and Hank Austin, 25, from Ascot died in a Good Friday incident when staff noticed their car was still parked in the car park at closing time.
Comments
To leave a comment you need to create an account. |
All comments 0