Boar is left to bleed to death after shooting
Wednesday 29th August 2012 10:00 pm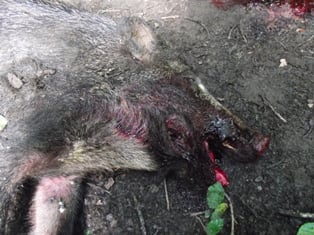 Subscribe newsletter
Subscribe to our email and get updates right in your inbox.
A young boar bled to death in the woods after being blasted in the jaw.
Police say they are linking the death to reports of a gang in a 4x4 shooting at boar at Forest Hills Golf Club days earlier.
A member of the public found the 18-month-old male boar in woodland between Five Acres and Mile End on Wednesday August 22.
Experts believe it bled to death after suffering a gunshot wound to the jaw.
Police say they had a report of three or four men in a 4x4 car shooting at wild boar on the Coleford golf course at around 8.45pm on Monday August 20.
Forest of Dean Sergeant Simon Clemett said: "There are a number of possible offences here including trespassing with firearms and causing unnecessary suffering to an animal.
"What happened to this boar was horrific and we would urge anyone who has information to come forward."
Golf club owner Alison Breton says she is mystified.
She said: "I think a member of the public has become confused because our greenkeeping staff were out on the course that night looking for the boar and did not see anybody taking shots or even acting suspiciously.
"They were looking to see how the boar were coming in and if they needed to repair the fence.
"When they saw the boar they shoo-ed them back across the road and into the woods on the other side.
"The boar can cause damage, but we certainly wouldn't shoot them. That's not what we are about. We have won environmental awards."
It is the second time within months a dead boar has been found in the woods and Friends of the Boar and police are appealing to the public to help them catch poachers.
Wildlife photographer David Slater said: "It's a horrible thing to have happened to the boar.
"Traditionally poachers came to the Forest for deer and nobody heard much about it, but everybody is more aware of the boar. I think poaching is at a low level but they are baiting them to bring them into the open because I've seen several little piles of potatoes."
Members of the public are being urged to stop feeding the boar and report any suspicious activity. Anyone who can identify the men seen at the golf club can call 101, quoting incident 91 of August 22.
Comments
To leave a comment you need to create an account. |
All comments 0