Berry break a club record
Wednesday 15th December 2010 12:00 am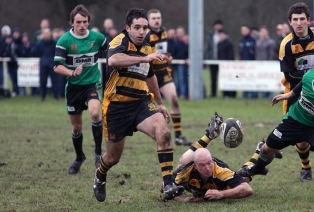 Injured: Richard Hobbs.
()
Subscribe newsletter
Subscribe to our email and get updates right in your inbox.
BERRY Hill created a new club record of 11 consecutive wins on a ground where they have never won before.
With the frost coming out of the ground the pitch was very tacky, making conditions difficult for both teams.
Playing up the slope, Berry Hill took the lead with a Lee Osborne penalty. It came at a cost, with Richard Hobbs having to leave the field with a dislocated shoulder.
Brett Scriven moved to the back-row, with Jason Revill coming off the bench to play in the second-row. The hosts kicked two penalties to take the lead by half-time.
Barton Hill then extended their advantage early in the second period, despite playing up the slope.
Forced to defend in their own 22, Berry Hill had control of the ball at the back of a ruck and looked set to clear their lines. However, the referee deemed the ball to be out – allowing the Barton forwards to gratefully pick up the ball and charge to the line, with attackers outnumbering defenders. The conversion was missed, but the home team now led 11-3.
In previous seasons Berry Hill would have struggled to come back, but they did not panic.
Lee Osborne cut the deficit to five points with a second penalty, following a superb break from Kurt Brown.
The visitors regained the lead when Sean McRoberts matched Brown's break from the base of a scrum and burst through the opposition's defence. He was tackled 10 yards short of the line, but the ruck was cleared quickly and Josh Cook slipped through to score close to the posts. Osborne added the important conversion.
The home side pressed hard and did have a kick to regain the lead, but it was missed. Berry Hill held on until the final whistle.
This was an old fashioned forwards battle in the mud.
If Berry Hill go on to achieve league success they may look back at this victory as pivotal, as few sides go to Barton Hill and win.
Weather permitting, Berry Hill face St Mary's at home on Saturday (2.30pm).
THE Gloucestershire Area Final of the RFU Intermediate Cup between Berry Hill and Thornbury was postponed for the second time on Tuesday evening.
The match was due to be played at The Portway Rugby Centre in Bristol under floodlights but, following an afternoon inspection, part of the pitch was found to be still frozen.
Berry Hill's only defeat of the season came on the opening day of the campaign at Thornbury.
No new date has been set for the final.