Battle memorial returns despite Storm Eunice rain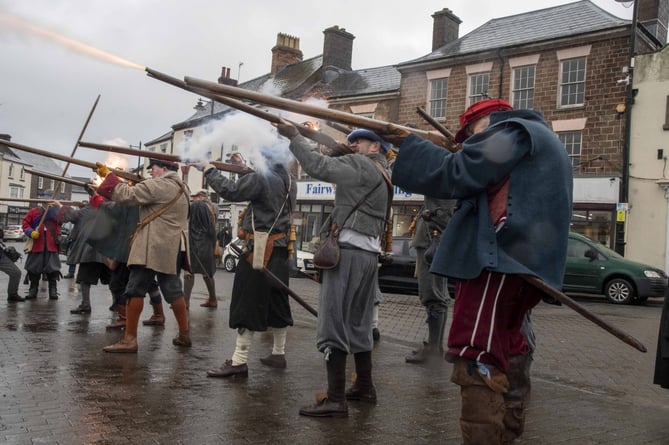 Ian Blyth, one of the event founders, in the parade.
Subscribe newsletter
Subscribe to our email and get updates right in your inbox.
The Mayor of Coleford welcomed the return of the annual memorial of the Civil War battle that took place in the town after Covid forced the cancellation of last year's event.
Cllr Nick Penny said the display of musket fire by members of the Sealed Knot was "one of the highlights of my civic year."
Members of the Sealed Knot – which is named after a secret society which plotted the return of the monarchy after the Civil War – travelled from as far away as Scotland to join local volunteers for the commemoration on Saturday (February 19).
The Battle of Coleford took place in 1643 when a 2,000-strong contingent of Welsh dragoons loyal to King Charles I attacked the town on its way to besiege Gloucester.
Ian Blyth, one of the founders of the event, said: "The Welsh came up Newland Street where there was a barricade.
They were not experienced soldiers and had to be persuaded to attack the barricade by the use of pikes.
"They engaged with the local men for over an hour but eventually the local men realised they were outnumbered and they fled into the Forest which was much closer to Coleford then.
"You can imagine 2,000 enemy troops arriving in a town of only 500 residents, they must have been quite fearful.
"Attempts were made to find the men in the Forest and that is normally done on horseback but they couldn't do that
"Reports said the streets of Coleford ran with blood, so it was clearly a bloody skirmish."
The parade, led by drums and featuring a number of large flags, started from Mushet Walk and made its way to the clock tower.
Volunteers had their own battle with the rain to get a light to fire the guns for the display of musketry.
a display of musket fire with A prayer in memory of those who lost their lives was read by Keith James of Woolaston and Coleford town councillor Marilyn Cox read a poem about the battle in Forest dialect by Keith Morgan.
A posy of flowers was laid on the memorial plaque to the battle by five-year-old Henry Huck-Jones, of Tewkesbury.
Cllr Penny said: "We really missed this event last year.
"To stand in front of so many muskets firing is probably one of the highlights of my civic year.
"The battle took place in 1643 and every year since 2010 we have tried to hold an event to commemorate it."
Comments
To leave a comment you need to create an account. |
All comments 0