Duo attacked ex-councillor on day of town BLM rally
Wednesday 12th May 2021 10:07 am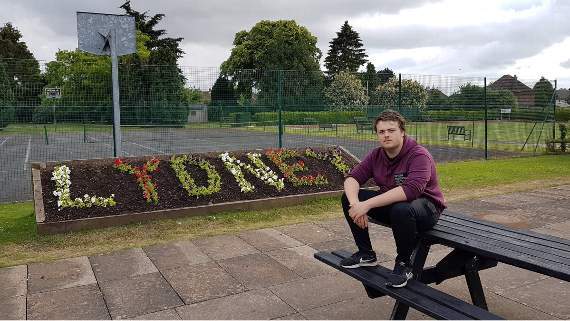 Former Lydney town councillor Zac Arnold resigned in a row over last year's Black Lives Matter event
()
Subscribe newsletter
Subscribe to our email and get updates right in your inbox.
A FORMER councillor was brutally attacked in the street, days after resigning in a row over a town's Black Lives Matter rally, a court heard.
Labour councillor Zac Arnold resigned in protest from Lydney Town Council last summer following the withdrawal of council permission for the BLM event to go ahead in Bathurst Park.
The council eventually backtracked and the event proceeded on Saturday, June 20, the day Mr Arnold was attacked.
Cheltenham Magistrates' Court heard that the victim, who has a reputation as an outspoken political activist, was walking along Naas Lane when he was attacked from behind by two men in an unprovoked assault.
Callum Devine of High Street, Lydney, admitted assault, and was ordered to pay the former councillor £200 in compensation after he suffered face and head injuries, plus £213 in costs and a victim surcharge.
Devine, aged 20, who had previously lived in a shared house with Mr Arnold, was also sentenced to a 12-week jail term suspended for a year, and must attend 20 rehabilitation activity requirement days, a curfew of 7pm to 7am on Saturdays and do 60 hours of unpaid work.
The court heard Devine and another man had run at the former councillor, knocked him to the floor and repeatedly punched him in the head. They only stopped the attack when a vehicle drew up.
After being arrested Devine admitted being one of the two men, but refused to name the other assailant.
He told the court he had since obtained a job and had cut back on his drinking
District Judge Nicholas Wattam described the attack as "completely unprovoked" and said he couldn't understand why they had launched the assault.
Before his resignation, Mr Arnold was involved in several high-profile incidents with the town council, including before his election in May 2019.
He was arrested for an alleged breach of the peace by police outside the town council's offices in January 2019, having previously refused to leave the council chamber while trying to ask a question.
Police escorted the then 18-year-old from the building, where he declined to move on and filmed himself being arrested, later posting the footage on social media.
Police later said he had been released with no further action.
Mr Arnold also later accused a town council officer of likening him to MP Jo Cox's killer following the incident.
After being elected to the council in May, another row led to the resignation from the council of Lydney Mayor Brian Pearman, followed by claims that he had been libelled in an internal email by Cllr Arnold, with the latter later telling fellow councillors: "There is nothing in there that I do not believe to be true."
When the town council withdrew its approval of holding the BLM event at Bathurst Park last June, Mr Arnold resigned after claiming it had "ripped away the human right of everyone to peacefully protest".
The council later changed its mind, and the event went ahead, leading to the resignation from the council of deputy mayor Tess Tremlett, who said the event was in breach of lockdown rules.
Forest district councillor and former Labour general election candidate Di Martin, who spoke at the BLM event, later resigned her Cabinet role following online "abuse" in connection with the rally.
In a resignation statement headlined 'He couldn't breathe. We couldn't speak' - a reference to the death of George Floyd which sparked the worldwide BLM protests - Mr Arnold said: "In June 2020, the Mayor of Lydney and the Chairman of the (Bathurst) Trust ripped away the human right of everyone to peacefully protest - with strict social distancing measures, a police presence and free PPE distribution, to prevent the permanently ongoing oppression and murder of minority groups of all kinds in this country and around the globe.
"They did this without even a vote by other trustees or councillors. They did this, primarily, due to a campaign orchestrated by a few members of the community based on a contempt for opinions other than their own, manipulations and selective memory.
"The same individuals that attempted to lobby the rich land and property owners of Lydney and predominantly elderly, straight, white males to 'use their influence' to buy Lydney Town Council out of permitting the human right to peacefully protest."
Comments
To leave a comment you need to create an account. |
All comments 0